Pureroot Bottle Gourd (Ghiya), 500gm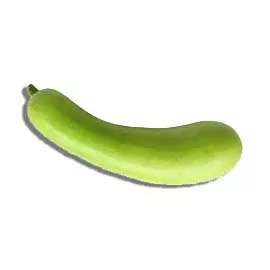 You must have disliked Bottle gourd vegetables in your childhood and many even after that. But trust your elders and start consuming, as you are missing an utterly important and miraculous food in your diet.
More About Vegetable Bottle Gourd
Bottle Gourd also known as Calabash is mostly available in tropical countries and is a climbing vine. It has light green outer skin and white coloured inner flesh. It is believed to have originated in India and South Africa.
Both Gourd is known by various names in India such as Ghiya, Lauki, and Doodhi, and are considered highly important in Ayurveda, due to their multiple health benefits. It can be made into soup, juice, raita, stir-fried, or eaten as light curry and kofta.
Ghiya Nutritional Facts
100 gm of Ghiya contains:
Potassium: 170mg

Dietary Fibre: 1.2g

Carbohydrates: 3.6g
It also contains Calcium, Phosphorus, Vitamin C, Vitamin A, and Magnesium.
Health Benefits (Lauki ke fayde)
Lauki aids digestion as it has a cooling effect on the body and combats flatulence, constipation, and ulcer.

Ghiya vegetable reduces the chances of urinary infections as it is alkalizing and has a diuretic effect.

It is also known to reduce blood pressure.

Ghiya is known to combat excessive thirst in diabetic patients.

It is extremely popular among weight watchers.

Zinc and Vitamin C in Lauki prevents pre-mature ageing and wrinkles.
India And Ghiya Vegetable
Farmers in India grow a variety of Bottle Gourd such as Pusa Sandesh, Arka Bahar, Pusa Naveen, Pusa Summer, Punjab Barkat, Harit, Samrat, etc.
Storage
Lauki should be eaten fresh and consumed within 2-3 days of purchase. Or to increase its self-life it can be refrigerated for at least 5 days.
Other Information
Country of Origin: India
Sourced and marketed by: Pureroot
(Show More)