Pureroot Cabbage (Patta Gobhi), 500gm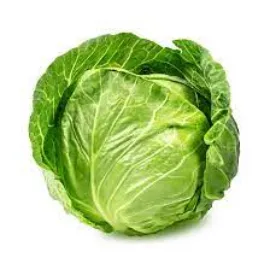 Cabbage is the unsung hero of the kitchen, but grows globally, used in multiple cuisines from Indian to oriental to continental. It is a low calorie and budget-friendly plant food.
More about Cabbage
Cabbage belongs to the brassica family which includes cauliflower, broccoli and kale. It is believed to have originated in Mediterranean Region. It comes in a variety of colours such as red, purple, white and green. It can be grated, boiled, sautéed, stir-fried and added to soups, salads, sandwiches or mixed veg.
Nutritional Facts
100gm of Patta gobhi contains:
Carbohydrates: 4.4gm

Protein: 1.3 gm

Fiber: 2gm
It also consists of Calcium, Vitamin C, Vitamin B6 and Iron.
Health Benefits (Patta Gobhi Khane Ke Fayde)
High in antioxidants including polyphenols and sulfur compounds, reduces the risk of cancer.

It reduces chronic inflammation in the body.

Rich in fibre, Patta gobi improves digestive health and promotes regular bowel movements.

Flavonoids in cabbage keep the heart-healthy.

Potassium in Patta gobi can help reduce high blood pressure.
Patta Gobhi and India
India ranks second in Patagobhi production in the world. In India, white Patagobhi is preferably grown. Various varieties of Patagobhi grown in India are Pusa Ageti, Pusa Drumhead, Pride of India, Green Boy and Green express.
Storage
Cabbage is best-stored whole and unrinsed until ready to use. It can also be placed in a plastic bag and stored in the fridge for at least a week.
Other Information
Country of Origin: India
Sourced and marketed by: Pureroot
(Show More)