Pureroot Cauliflower (Phool Gobhi), 500gm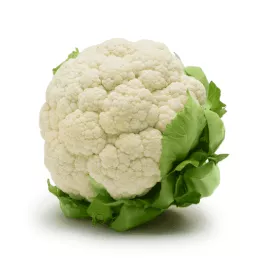 Not a flower but a vegetable, introduced from England in India, first in Saharanpur, U.P and then creeping to every part of India, known as Cauliflower. Winters in North India are incomplete without "Phool Gobhi k Parathe".
More about Phool Gobhi
Cauliflower derives its name from the Latin word 'caulis' which means cabbage with flower. The florets on the head of the Ful Gobhi, which are tightly clustered are called curds, are the edible part. Apart from white, green, purple, and orange-colored cauliflowers are also found. It is considered to have originated in the Mediterranean region (Cyprus). Also known as gobhi in India, it fits into several dishes, ranging from sabzi, soup, snacks to parathas.
Nutritional Facts
100g of

Phool Gobhi

contains:
Water: 92%

Protein:1.92gm

Carbohydrate: 4.9g

Fiber: 2gm

Calcium:22mg

Iron: 0.42mg
It also contains Potassium, Zinc, Vitamin C, Vitamin K, and Vitamin A.
Health Benefits
Extremely low in carbs, Cauli Flowers are best for weight loss.

Gobhi

is rich in sulforaphane, which protects against blindness and macular degeneration.

Ful gobhi rich in Vitamin K helps in blood clots.

Being rich in Indoles,

Phool Gobhi

helps balance female sex hormones.

fool gobhi belongs to the Cruciferous vegetable group like kale, Cabbage, Broccoli which lower the risk of cancer in the body.
Cauliflower and India
India is the second-largest producer of fool gobhi in the world. In India, mainly white cauliflower is grown and eaten. The variety of Phool Gobhi grown in India is Pusa Kartiki, Pusa Deepali, Arka Kanti, Kashi kunwari, Pant Gobhi2, Pusa Himjyoti, and Pusa Snowball.
Storage
Fresh Cauli Flower can be stored at room temperature and consumed within 2 days. To increase the self -life it can also be refrigerated.
Other Information
Country of Origin: India
Sourced and marketed by: Pureroot
(Show More)