Pureroot Celery, 250gm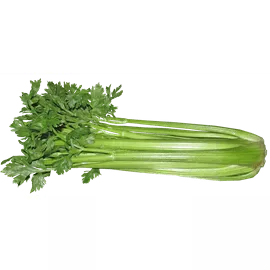 Celery vegetable is a herbaceous plant of the parsley family and is considered an extremely healthy green vegetable. Believed to have originated in the Mediterranean, is now cultivated globally. It is considered a cleaning toxic to counter the deficiencies of the winter diet.
Celery Uses
They are eaten raw, mixed into a salad, and used to sprinkle or garnish baked or fried dishes. The leave of celery is strongly flavoured and used in soups, stew, or as a dried herb.
Nutritional Fact
100 grams of raw celery vegetable contains:
Water: 95.4g

Carbohydrates: 2.97g

Dietary Fibre: 1.6g

Ash: 10.75g
It also contains Calcium, Magnesium, Phosphorous, and Potassium k.
Health Benefits of Celery
Celery helps in the detoxification of the body.

It reduces inflammation in the body and prevents diseases such as arthritis and muscular pain.

Low in calories and carbs, celery aids weight loss and digestion.

Vitamin A and C as well antioxidants present in the celery, boost the immune system.
Storage
Fresh Celery with stalks intact can be placed in the fridge for a week.
Other Information
Country of Origin: India
Sourced and marketed by: Pureroot
(Show More)