Pureroot Chenopodium Leaves (Bathua), 500gm
Chenopodium Leaves (Bathua), 500gm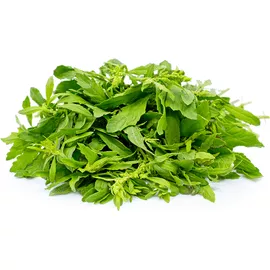 Chenopodium or Bathua vegetable is an underestimated plant. It is a wild weed. But surprisingly, Bathua Leaves has many health benefits and must be included in our diet.
More About Bathua Leaves
Bathua vegetable is known by various names such as Goosefoot, Lamb's quarter, Fat Hen, Parupukkiral in Tamil, Lunak in Punjab, etc. It is a weed or herbaceous plant which is native to Europe and Asia. It is cultivated in combination with other crops. In India the leaves, fresh steams are consumed in many different ways such as Bathua raita in Haryana, Bathua Parantha in Punjab, in Himachal Pradesh Phmabra and Lafi, containing bathua seeds and leaves, in Assam consumed as vegetable fry or steamed. The leaf is highly nutritious and has multiple health benefits.
Nutritional Facts
100gm of boiled bathua contains:
Calories: 29

Carbohydrates: 4.5 gram

Dietary Fiber: 1.9 gram

Protein: 2.9gram
It also contains Vitamin A, Vitamin C, and Potassium
Health Benefits of Chenopodium (Bathua Ke Fayde)
Bathua leaves are good for the detoxification of the liver.

Bathua leaves have antibacterial properties and are used as one of the ingredients for anti-bacterial medicines.

Bathua is also a potent natural analgesic, to get relief from pain such as headache, toothache, etc.

It aids healthy digestion, relieves constipation, and reduces gastric ulcers.

It can be used to treat diarrhea, by boiling the leaves and drinking the water.
Storage
The leaves can be wrapped in paper and stored for 2-3 days. It can also be stored in a refrigerator for a week.
Other Information
Country of Origin: India
Sourced and marketed by: Pureroot
(Show More)