Pureroot Colocasia (Arbi), 500 gm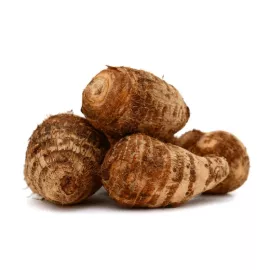 Arbi also known as Taro Root, is a popular root vegetable in Indian Sub-Continent, Caribbean and West- Africa. In Hawaii famous annual taro food festival is celebrated to mark its cultural identification.
More About Arbi
Arbi or Tari roots are obtained from the Colocasia leaves, which come in two varieties, green and black stemmed ones. Though it looks similar to a potato but tastes differently and has a rough brown top with ridges on the surface and white pulp inside. The root vegetable is very famous in India and various delicacies are made out of it such as "Maddi Phodi" in the Konkon area, stir-fried, curry and subzis of Arvi vegetables in North India, Saru-Besara or Dalma dish in Odisha. The colocasia are also deep-fried in oil, tossed with red chilli powder and salt to make famous Saru chips.
Nutritional Facts of Colocasia
100grams of Arbi vegetable contains:
Energy: 112kcal

Carbohydrates: 26.46g

Protein: 1.50g

Dietary Fibre: 4.1g
It is also rich in Vitamin A, Vitamin C, Vitamin E, Vitamin B Complex, Iron and Magnesium.
Health Benefits
It keeps the blood sugar level under control and reduces heart disease.

It is rich in fibre and is effective for weight loss.

Taro Roots contains polyphenols and antioxidants that can combat cancer.

Due to its high fibre and resistant starch content, it increases the feeling of fullness and aids weight loss.

Also good for the gut and prevent colon cancer and inflammatory bowel disease.
Storage
It should be stored in a cool, dark place like potatoes. Do not refrigerate them. However, Taro green, Arbi patte should be placed in the refrigerator like other greens.
Other Information
Country of Origin: India
Sourced and marketed by: Pureroot
(Show More)