Pureroot Curry leaves (Curry Patta), 200gm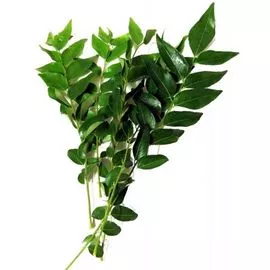 Curry Leaves
Curry leaves(Curry Patta) are obtained from the curry tree, which is a tropical tree, native to Asia. The fresh leaves are stapled to South Indian cuisines and are also used in Indian traditional medicines. Commonly used as a seasoning or cooked along with vegetable oil, mustard seeds to add aroma and flavor to the dishes. The leaves are also roasted and used as an ingredient in Soup. The leaves are used as a herb in Ayurvedic and Siddha medicine.
Nutritional Fact
Curry leaves

are packed with:
Fiber

Iron

Vitamin A

Vitamin C

Vitamin E
Health Benefits of Curry Patta
Curry Leaf rich in Iron and folic acid helps in reducing anaemia.

Fresh Curry leaf help in the regulation of blood sugar level and has anti-diabetic properties.

Curry Leaves also help to improve digestion and aid weight loss.

Curry Patta is also helpful in treating damaged hair and preventing premature greying of hair.

Kari leaves also have anti-bacterial properties and keep the skin healthy.
Storage
Curry leaves can be placed in an air tight container and stored in the fridge for at least 10 days.
Other Information
Country of Origin: India
Sourced and marketed by: Pureroot
(Show More)