Pureroot Fenugreek Leaves (Methi Patta), 500gm
Fenugreek Leaves (Methi Patta), 500gm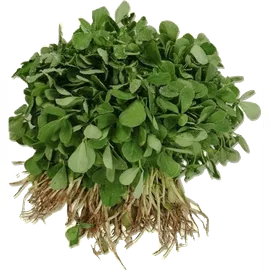 Winters and fresh Fenugreek Leaves always go together. Lovers also dry Methi leaves and use them throughout the years. And why not, they have impressive taste and health benefits, that one cannot afford to avoid.
More About Fenugreek Leaves
Methi green leaves are known by various names such as Methi Koora in Telgue or Venthikaya Keera in Tamil. They are the most widely used green vegetable in India, which has a bitter taste but enhances the favour of any food. Dried Methi vegetables are also used as a flavouring agent in numerous North Indian dishes, especially in Kashmiri Cuisines. Methi Patta has numerous health benefits.
Nutritional Facts
100 gm of fresh Fenugreek Leaves contain:
Carbohydrates: 58gm

Total Fat: 6gm

Potassium: 770mg

Protein: 23gm
They are also rich in fibres, Vitamin C, VitaminB6, Magnesium and Iron.
Health Benefits
It aids in the proper functioning of the liver and treats gastric issues.

These are also used to treat Dysentery and Diarrhoea.

Dried and Powdered Methi is used to treat allergies and congestion in the respiratory tract.

It lowers the bad cholesterol and increases good cholesterol in the body.

Fenugreek leaf also has anti-diabetic elements and help in controlling glucose metabolism.
India And Methi Leaves
Two types of fenugreek leaves are extensively cultivated in India, one which is a larger variety, with dark green, oval-shaped and bitter and another which is a smaller variety with white roots and small green leaves, mostly grown in South India.
Storage
Methi leaf can be wrapped in paper and stored for 2-3 days. It can also be refrigerated for at least 4-5 days. Do not freeze the leaves.
Other Information
Country of Origin: India
Sourced and marketed by: Pureroot
(Show More)