Pureroot Garlic (Lehsun), 250 gm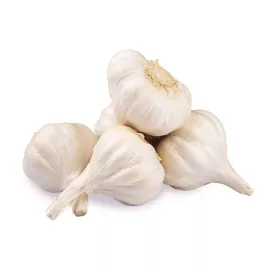 Garlic's medicinal benefits have been known by humans for more than a thousand years. This 'wonder drug' can be used to treat various health ailments.
More About Garlic
Do you know, records show garlic has been cultivated for at least 4000 years and was given to ancient Egyptian slaves to improve their immunity. Apart from proven health and medicinal benefits, Lahsun is also used as a flavouring ingredient and for seasoning, particularly in oriental cuisines. It is used in curries, salads and soup. In India Lahsun is added as a basic ingredient to most gravy rich dishes. Indian non-veg curry is impossible without Lahsun paste.
Facts About Lehsun
Garlic is rich in:
Sulphur provides a strong smell and has medicinal values.

Favours Vitamin B1 adsorption.

Contains allicin natural antibiotic.
Health benefits
It has the potential to reduce heart disease as it can lower LDL cholesterol, regulate blood pressure and prevent blood clots.

It has anti-inflammatory properties, which reduces pain and swelling associated with Arthritis.

Intake of Indian garlic reduces the risk of cancers in the body.

It is a potential anti-bacterial, anti-fungal anti-viral herb.

It also cleanses the blood and the internal body systems.

Asthma patients should not use raw Lahsun, as it might worsen the symptoms.
India And Lehsun
India is the second-largest producer of lehsun after China. Indian farmers grow a variety of Lehsun such as Yamuna Safed, Agri found Parvati, Agri found white Sweta, Godavari etc.
Storage
Lahsun can be stored uncut or unwashed at room temperature for months.
Other Information
Country of Origin: India
Sourced and marketed by: Pureroot
(Show More)