Pureroot Green Chillies (Hari Mirch), 200gm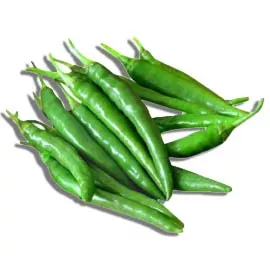 Green chillies are life and soul of Indian cooking. Without a dash of spicy Hari Mirch, Indian cooking is impossible.
More About Green Chillies
Green Chillies are small shrub-like branched plants, which are used for seasoning or garnishing. Hari Mirch is an important basic ingredient in Indian, Thai and Mexican cuisines. It is believed to have originated in Central America and the Portuguese introduced green chillies into India. Known for their intense pungent taste and heat, they can be cut, sliced, chopped, slit or diced into the dishes or even used raw. It also has many crucial roles in boosting immunity and fighting diseases.
Green Chilli Nutritional Facts
Per 100 g of chillies contain:
Calories: 40

Protein: 2g

Carbohydrates: 9g
It also contains Vitamin A, Vitamin C, Vitamin B-6, Iron and Magnesium.
Health Benefits (Hari Mirch Khane Ke Fayde)
Hari Mirch has anti-bacterial properties and prevents various infections in the body.

It contains phytonutrients that relax respiratory passage and prevent lung diseases, cough, asthma and cold.

Hari Mirch has anti-inflammatory properties and also aids digestive health.

Rich in Vitamin A, green chillies are also good for eyesight.

It releases endorphins which help in elevating mood and curbing mood swings.
Storage
Fresh chillies can be kept in the fridge for 7days. It can also be kept in a plastic container and refrigerated.
Other Information
Country of Origin: India
Sourced and marketed by: Pureroot
(Show More)