Pureroot Indian Green Pumpkin-Kaddu, 500 gm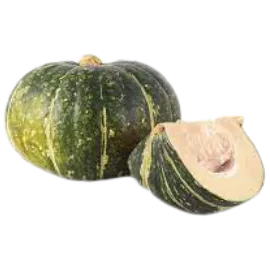 Pumpkins are also known as Squash are widely grown for food, aesthetic and recreational purposes. From pumpkin pie to Halloween decoration in the U.S.A to India's favourite kaddu ka halwa, pumpkin marks its unique importance in every culture.
More About Pumpkin
Pumpkin is rough, slightly ribbed skin with deep yellow to orange colour inside, containing seeds and thick pulp. It is native to North America and has been used since 5,500BC. Pumpkin's parts from leaves, seeds, flowers to pulp are eaten and enjoyed in various cuisines. It can be eaten raw or cooked, roasted or boiled and added into Indian Sambar, Halwa, in pie, soup and even eaten as sabzi. Pumpkin seeds are roasted and eaten, even the pumpkin leaves and flowers are eaten in the form of delicious Pakodas. It is also loaded with multiple health and nutritional benefits.
Nutritional Facts
100 gram of raw pumpkin contains:
Calories: 30

Water: 92%

Carbohydrates: 6.5%

Protein: 1%
It is an excellent source of Vitamin A, Vitamin C, Vitamin E, Zinc and Beta Carotene.
Health Benefits
Beta Carotene in pumpkin boosts healthy eyesight.

The fibre and Potassium in Pumpkin support heart health.

Pumpkin is helping in regarding the blood sugar levels and has anti-diabetic properties.

It reduces the risks of cancer in the body.

Low in calories, Pumpkin aids weight loss and reduces the risk of obesity.
Storage
Pumpkins can be stored in a cool dry place for up to weeks. Cut pumpkins can be best stored by wrapping them in airtight plastic and storing them in the fridge.
Other Information
Country of Origin: India
Sourced and marketed by: Pureroot
(Show More)