Pureroot Kashmiri Walnut (Akhrot) without shell, 250 gm
Kashmiri Walnut (Akhrot) without shell, 250 gm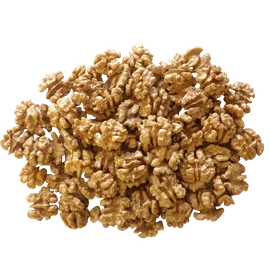 Kashmiri Walnuts are grown in the temperate hardwood forest of the western Himalayas. They are round, single-seeded, stone fruit. Kashmiri Akhrot seeds are an edible and excellent source of omega-3 fatty acid, which is good for heart health and blood pressure regulation. A person should be selective in daily consumption as they are highly rich in calories.
Uses of Kashmiri Walnut
Kashmiri Akhrot is a useful nut for the keto diet. They are linked to healthier sperm. They are also rich in antioxidants, vitamin E, zinc, manganese, iron, and selenium.
Health Benefits of Kashmiri Akhrot:
Kashmiri Walnuts are used in controlling inflammation which is a root cause of heart disease, type-2 diabetes,Alzheimer's disease and cancer
It promotes gut health.
It reduces the risk of breast cancer, prostate cancer, and colorectal cancer.
Kashmiri Walnuts is highly useful in weight control and help in good physical functioning and healthy ageing.
Kashmiri Akhrot supports good brain function.
Kashmir Walnut can be eaten raw or added to desserts, salads. Various Kashmiri Cuisines are impossible without walnuts. example Walnut Halwa.
(Show More)