Pureroot Knol Khol (Ganth Gobhi), 500gm
Knol Khol (Ganth Gobhi), 500gm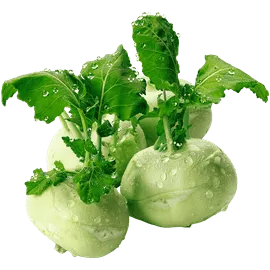 Knol khol (Ganth Gobhi) may not be famous among foodies, but still famous among Indian Mothers, due to its multiple health benefits.
More About Knol Khol
It is also known as Kohlrabi, Turnip Cabbage or German Turnip. It belongs to the Brassica family, similar to cabbage, broccoli, cauliflower. It is native to Italy but is now used worldwide. Its taste and texture are similar to cabbage, broccoli but comparatively are milder and sweeter. KnolKhol stems are found in varieties of colours such as purple, white, pale yellow and green. Edible preparation of KnolKhol can be leaf or stem and can be eaten raw in salads or cooked with spices. The famous Kashmiri cuisine, Monji and Haakh are made using this vegetable.
Nutritional Facts
100 grams of raw Knol Khol includes:
Carbohydrates: 6.2g

Dietary Fiber: 3.6g

Protein: 1.7g

Water: 91g
It is also rich in Vitamin B complex, Vitamin C, Iron, Manganese, Phosphorus and Potash
Health Benefits of Knol Khol (Ganth Gobhi Ke Fayde)
A good source of dietary fibre, Knol-Khol, improves digestive health and reduces constipation.

Rich in potassium, KnolKhol helps in lowering the risk of cardiovascular disease like a heart attack.

Khol khol vegetable also contains iron which can prevent anaemia.

Rich in carotenes, helps to prevent eye disease.

Phytochemicals present in Ganth Gobhi also prevent cancer in the body.
Storage
Fresh Knol Khol can be refrigerated for a week. Do not peel it until use. To avoid moisture loss after chopping, keep it in a zip lock bag and place it in the fridge.
Other Information
Country of Origin: India
Sourced and marketed by: Pureroot
(Show More)