Pureroot Ladies Finger (Bhindi), 500gm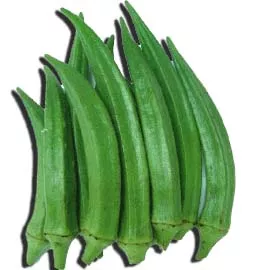 Lady's finger or okra is a green edible pod vegetable. It is consumed all over the world from Asia, America to Africa. Known by various names such a 'gumbo' in the U.S, guibeiro in Portuguese, banya in Egypt, bhindi in India, is believed to have originated in Ethiopia. It is a natural thickening agent and is used in curry or dishes with gravy or can be eaten stir-fried. In Japan, the leaves of Ladies Finger are eaten as Salad.
Nutritional Fact
100 gm of lady's finger contains:
Energy: 31 Kcal

Carbohydrates: 7.03g

protein: 2.0g

Dietary Fibre: 3.2g
It also contains Vitamin C, Vitamin A, Vitamin E, Iron, Calcium, and Manganese.
Health Benefits
Lady Fingers is highly effective in lowering blood sugar levels and has anti-diabetic properties.

Lady Finger improves blood capillary functions.

It has a laxative quality and helps prevent constipation.

Antiseptic and Antibacterial effects of ladyfinger can reduce sore throat.

The soothing effect of a lady's finger is used to treat sunburn and heatstroke.

Iron in the lady's finger prevents anemia.
Storage
Choose fresh Ladies Finger pods with green color skin. It should be crispy and immature pods. It can be stored in a refrigerator and can be consumed within 4-5 days.
Other Information
Country of Origin: India
Sourced and marketed by: Pureroot
(Show More)