Pureroot Large Potato (Bada Aloo), 1kg
Large Potato (Bada Aloo), 1kg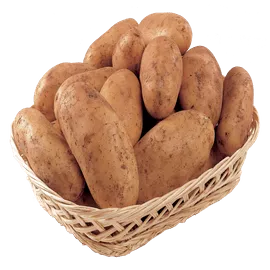 Large Potatoes are also known as Russet potatoes, are ideal for French fries and baked potatoes.
More about Large Potato
Large Potatoes are light to dark brown skin and large in size. it is the most common potato that we see across the world. These are oval-shaped and are mainly used for baking and roasting purposes. It can also be roasted, mashed or boiled. They are best for preparing stuffed potatoes.
Nutritional Facts
One raw potato contains:
Vitamin C

Vitamin B6

Potassium

Carbohydrates -22%

Starch- 60-80%

A significant amount of fibres
Health Benefits
Baked, boiled and mashed potatoes can regulate blood pressure as rich in chemicals such as chlorogenic acid and anthocyanins.

Aloo with their flesh, in amino acid that help calm the nerves and also promotes sleep.

These have zero cholesterol. It's the oil and cholesterol-laden ingredients that makes it unhealthy.

It boosts cognitive health and can be helpful for Alzheimer's patients due to the alpha-lipoic acid present in them.

It aids in smoother digestion and can also help in recovery from diarrhoea.
Large Potatoes and India
In India, the large potato variety grown by Indian farmers includes Kufri Chandramukhi, Kufri Lauvkar, and Kufri Bahar.
Storage
Aloo should be stored in a cool, dry place, away from light. Do not wash before storing. Do not freeze raw potatoes.
Other Information
Country of Origin: India
Sourced and marketed by: Pureroot
(Show More)