Pureroot Mint Leaves (Pudina), 100 gm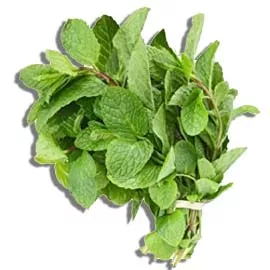 Mint leaves also known as Pudina or Mentha are aromatic and perennial herbs. It is known for its medicinal properties and is one of the oldest herbs known to humans. Mint leaves are a staple in Indian cuisines and are used for flavouring curries. These leaves have a fresh, sweet flavour with a cool after-taste and are used in herbal teas, jellies, candies, beverages, syrups and raita. Mint leaves are also used for mouth freshener, mint chocolate, flavouring various drinks like the mojito, mint julep, and detoxing water.
Nutritional Fact
Fresh mint leaves contain:
Vitamin A

Vitamin C

Iron

Calcium
Also rich in flavonoids and antioxidants.
Health Benefits
Mint leaves are anti-inflammatory and reduce inflammation in the stomach.
Mint has anti-bacterial properties and improves skin health.

The antioxidants, Vitamin A and Vitamin C in mint protect the body from cancer and liver disorder.

The strong flavour of the mint leaves provides relief from a respiratory disorder, cough and cold.

Chewing mint leaves gives oral freshness and prevents bad breath.
Storage
Fresh mint leaves can be wrapped in paper and placed in the fridge for up to 4-5 days.
Other Information
Country of Origin: India
Sourced and marketed by: Pureroot
(Show More)