Pureroot Pine Nuts (Chilgoza) With Shell, 1kg
Pine Nuts (Chilgoza) With Shell, 1kg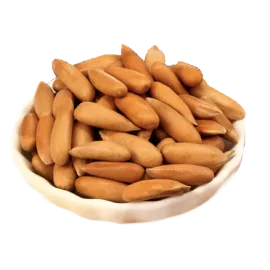 Pine Nuts or Chilgoza dry fruit are not nuts but edible seeds of pine trees and are very uncommon among people but a favourite to dieticians as they are loaded with antioxidants that make the body, heart and mind healthy. They can be eaten raw, roasted or added to desserts.
More about Pine Nuts (Chilgoza) Dry Fruit in Shell:
Pine Nuts in shell offer high zinc which improves the body's immunity and prevents the common cold. Zinc in Pine Fruit is also used to treat infertility.
Chilgoza dry fruits are expensive because they grow naturally in forests and are not cultivated. Also, pine cones take 18 months to 3 years to produce pine seeds. Pine fruits are very difficult to harvest and laborious.
Health Benefits:
Chilgoza fruit is a rich source of essential vitamins and minerals such as Vitamin B1, B2, C, potassium, magnesium, phosphorus with a sufficient amount of iron, calcium and zinc which prevents cancer and lowers body cholesterol.

It is highly useful for weight loss and is a rich source of essential fatty acids like 51% linoleic acid and 37% of oleic acid vis-a-vis a healthy heart.

Chilgoza fruit is a source of plant protein, good for a vegetarian diet plan. Chilgoza oil is widely used in traditional medicines and is useful to prevent viral, bacterial and fungal infections. Shell Pine Nuts in India is cultivated in the western Himalayas regions.
Other Information
Country of Origin: India
Sourced and marketed by: Pureroot
(Show More)