Pureroot Pointed Gourd (Parwal), 250gm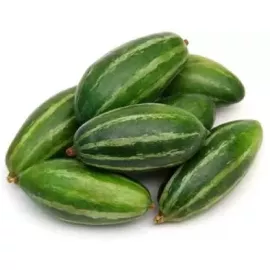 Pointed Gourd is also known as Parwal, patola, or green potato is a vine plant of the Cucurbitaceae family, similar to cucumber. The vegetable is green with white strips on it. The plant is mostly found in Indian Subcontinent and eaten as an ingredient for soup, stew, curry, fried or potoler dorma with fish or as India's most favoured Parwal Kalonji. As per Ayurveda Pointed Gourd, has the capacity to boost immunity and regulates the Khapa, by eliminating toxins from the body.
Nutritional Facts
100 gram of raw pointed gourd contains:
Carbohydrates: 2.2g

Protein: 2g

Dietary Fiber: 3g
It is rich in Vitamin A, Vitamin B1, Vitamin B2, and Vitamin C.
Health Benefits
Pointed Gourd is beneficial for the purification of blood and detoxifies the blood tissues and keeps the skin healthy.

Rich in Vitamin C, aids digestion and treats gastric and constipation problems.

Including Parwal in diet, helps reduce the symptoms of aging and reduces wrinkles.

Pointed Gourd boosts immunity and prevents flu, treats throat infections.

Low in calories, it helps in weight control and helps the stomach to feel fuller.
Storage
Fresh Pointed Gourd can be stored in the fridge for up to 1 week.
Other Information
Country of Origin: India
Sourced and marketed by: Pureroot
(Show More)