Pureroot Potato (Aloo), 1 kg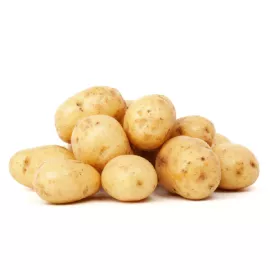 We should be thankful to the Portuguese for introducing potatoes to Indians. Now it's our Favorite, making part of our everyday essentials.
More about potatoes
Potatoes are the most popular vegetable and an important staple food both in India and worldwide. Potatoes are believed to have originated in Peru (South America). Potatoes are modified underground stems of the plant. Potatoes are an indispensable part of Indian cooking as used in multiple ways like curries, chips, chaat, not to forget the important ingredient of India's favourite samosas. It can be roasted, mashed, boiled or even baked.
Nutritional Facts
One raw potato contains:
Vitamin C

Vitamin B6

Potassium

Carbohydrates -22%

Starch- 60-80%

Significant amount of fibers
Health Benefits
Baked, boiled and mashed potatoes can regulate blood pressure as rich in chemicals such as chlorogenic acid and anthocyanins.

Potatoes with its flesh, in amino acid that help calm the nerves and also promotes sleep.

Potatoes have zero cholesterol. Its the oil and cholesterol laden ingredients that make it unhealthy.

Potatoes boost cognitive health and can be helpful for Alzheimer's patients due to the alpha-lipoic acid present in it.

Potatoes aids in smoother digestion and can also help in recovery from diarrhoea.
Potatoes and India
Potatoes are grown in India in almost all states except Kerala. There are 100 varieties of edible potatoes with a different range, size, color, shape, starch, flavours and content found in India. The various varieties of potatoes found in India are Kufri Sindhuri, Kufri Arun, Kufri Red, Kufri Jyoti, Kufri Megha, Kufri Giriraj, Kufri HImalini, Kufri Surya etc.
Storage
Potatoes should be stored in a cool, dry place, away from light. Do not wash before storing. Do not freeze raw potatoes.
Other Information
Country of Origin: India
Sourced and marketed by: Pureroot
(Show More)