Pureroot Red Carrot (Lal Gajar), 500gm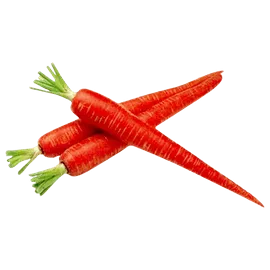 The cartoon shows rabbits love red carrots. But guess what seems to be the favourite of humans too. It is among the top ten most economically important vegetable crops in the world.
More about Red Carrot
Carrot is a root vegetable, which comes in various colours, including purple, red, yellow and orange. Early carrots were purple or yellow and believed to have originated in Afghanistan. Red Carrot can be enjoyed raw or in the form of juice, smoothies and salad. It can also be added to soup, parathas, mixed veg or cooked into an all-time favourite "Gajar ka Halwa".
Nutritional Benefits
Per 100 grams of Red Carrot contains:
Carbohydrate: 6gm

Fiber: 2.8gm

Protein: 0.9gm

Potassium :320mg
It also contains Vitamin A, Vitamin C, Vitamin K and Calcium.
Health Benefits (Lal Gajar Ke Fayde)
Rich in beta carotenes, carrots are good for the eyes and protect against sunburn

Potassium in carrots prevents heart disease and keeps blood pressure in check.

Antioxidants and carotenoids present in the carrot, reduce the risk of cancer.

Lal Gajar promotes healthy bowel movement and eases constipation.

Lal Gajar strengthens bones and prevents osteoporosis.
India and Red Carrot
Various varieties of carrots are grown in India such as Pusa Kesar, Pusa Kulfi, Kashi Karishma, Arka Suraj, Pusa Nayanjyoti and Imperator.
Storage
Fresh Red Gaajar can be kept at room temperature for at least 2-3 days. It can also be stored in the refrigerator to increase self-life.
Other Information
Country of Origin: India
Sourced and marketed by: Pureroot
(Show More)