Pureroot Ripe Papaya (Papita), 1kg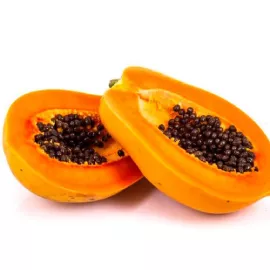 Papayas is a tropical plant that is native to Mexico but is now grown in many other parts of the world. It is also known as papaws or pawpaws. A ripe papaya will have a creamy, butter-like texture with a mild to fair sweet flavor. Generally, fully ripen papaya is eaten raw while green unripened papaya is cooked as a vegetable in India. It is suitable for salad, smoothies, cake, mixed with desserts, and can be eaten raw.
Nutritional fact
One small papaya (152 grams) contains:
Calories: 59

Carbohydrates: 15 grams

Fiber: 3 grams

Protein: 1 gram
It is also rich in Vitamin C, Vitamin A, Potassium, and Folate.
Health Benefits of Ripe Papaya (Papita Khane Ke Kayde)
The antioxidants in papaya have anti-cancer properties.

Papaya's high vitamin C and lycopene improve heart health and reduce the risk of heart disease.

Choline is a very important and versatile nutrient found in papayas that aids our bodies in sleep, muscle movement, learning, and memory.

Papaya is low in calories and supports weight loss.

Papaya is also great for hair because it contains vitamin A and excellent food for skincare.

It is thought to play a protective role in eye health, and it may ward off macular degeneration.
Storage
The storage of papaya depends on how ripe (or unripe) it is. If papaya is one third to one-fourth yellow, needs more time to ripen and must be stored at room temperature to be ready within 2-5 days. A ripened papaya can be stored in the refrigerator and must be consumed within 2-3 days.
Other product info
Country of origin: India
Sourced and marketed by: Pure roots

(Show More)