Pureroot Sultanas Golden Raisins, 100 gm
Sultanas Golden Raisins, 100 gm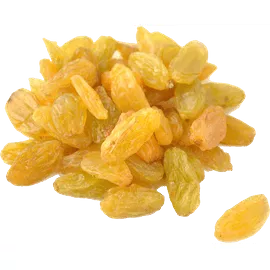 Sultanas Dry Fruits
Sultanas dry fruits are made from Turkish seedless green grapes. They are golden in colour and sweet in taste. Sultana raisins are often the juiciest among all raisins. It is commonly used in salads, desserts, yoghurt and even added to cookies, bread and muffins.
Sultanas dry fruit is recommended to consume soaked raisins. Even the water in which raisins are soaked is highly good for reducing weight and relieving constipation.
Health Benefits of Sultanas
Decrease inflammation in the body.

Dried Sultana raisins controls blood sugar and diabetes.

Sultana dry fruits are a good source of iron and can prevent iron deficiency anaemia.

Rich in poly nutrients and antioxidants, raisins can prevent cancer and heart diseases.
Other Information
Country of Origin: India
Sourced and marketed by: Pureroot
(Show More)