Pureroot Tomato Hybrid (Hybrid Tamatar), 500gm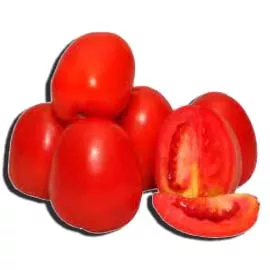 Tomato Hybrid are the result of cross-pollinated two different types of tomatoes. It is a widely used and essential part of Indian cooking.
More about Tomato Hybrid
Hybrid tomatoes are fruits more often treated as vegetables. It is also known as a multi seeded berry. It is believed to have originated in Italy. Portuguese introduced Tomatoes in India. Different varieties of tomatoes are available from cherry tomatoes to bright yellow tomatoes, green tomatoes, hybrid tomatoes, Italian pear-shaped tomatoes. In India from Sambar to sabzi Hybrid Tamatar is an important ingredient.
Nutritional Facts
One hybrid tomato contains:
Vitamin C

Vitamin K

Vitamin A

Total sugar-3-4%

Carbohydrates – 5.8g
Tomato Hybrid also contains calcium, potassium, and phosphorus.
Health Benefits
Hybrid tamatar is a good appetizer and its soup is a remedy for constipation.

Hybrid tomatoes are rich in lycopene (antioxidant) that reduces the risk of cancer and other diseases.

Tomatoes bring free from cholesterol and fat are good for the heart.

Tomatoes are good for skin and hair and boosts immunity.

They are loaded with Vitamin K and Calcium making bones stronger.
Storage
Tomato Hybrid must be stored away from direct sunlight. Unripe Hybrid tomato can be stored at room temperature for 3-4 days. It can also be placed in the refrigerator to increase self-life.
Other Information
Country of Origin: India
Sourced and marketed by: Pureroot
(Show More)