Pureroot Turnip (Shalgam), 500gm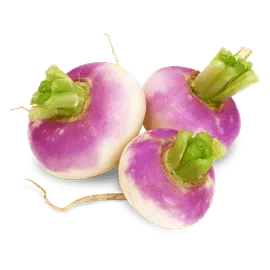 Turnip or White Turnip is a root vegetable belonging to the Brassicaceae family and commonly grown in the temperature region of the world.
More About Turnip
Shalgam is mostly white-skinned, with upper 1 to 6 centimetres, which protrude above the ground are purple or red or greenish. The interior flesh is white and has tap root below swollen storage root, Turnip root and leaves have a pungent flavour. The Saljam leaves which grow above the grounds are also edible and resemble mustard green in flavour. It is believed to have originated in Northern Europe, which later became an essential ingredient in oriental cuisines. Turnips can be enjoyed raw in salads or added to soups, stews, grated and stripped into rolls and even cooked into sabzi in India.
Nutritional Facts
100 grams of raw turnip contains:
Dietary Fiber: 3.5g

Protein: 1.1g

Carbohydrates: 4.4g
It is also rich in Vitamin A, Vitamin B Complex, Vitamin C, Vitamin E, Vitamin K and minerals such as Calcium, Iron, Magnesium and Manganese.
Health Benefits (Shalgam Ke Fayde)
Salgam vegetable high in Vitamin K has anti-inflammatory properties and aids cardiovascular health by reducing bad cholesterol in the body.

Rich in Calcium and Potassium, Shalgam strengthens bones and muscles.

Digestive problems such as constipation, bloating or diarrhoea can be relieved as Shaljam has high dietary fibres.

Boosts immune system as rich in Vitamin and Minerals, antioxidants, which stimulates the production of white blood cells and antibodies.

Great source of Iron, Shaljam all treats anaemia and helps in the production of red blood cells.
Storage
Remove the greens and store the Salgam vegetable in the refrigerator for up to 3 weeks.
Other Information
Country of Origin: India
Sourced and marketed by: Pureroot
(Show More)